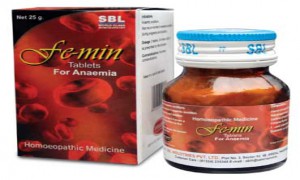 Price: Rs. 140.00 (25 gm)
In India, more than 50% of women suffer from some degree of anemia, Severe anemia is highest amount pregnant women: adolescent girls are anemic (Hb 12g/dl), especially during periods of menarche and the subsequent years.
During pregnancy and lactation, the requirement of nutrients increases manifold. Anemia if not treated can worsen and may become an underlying cause for chronic ill health, Impaired foetal development (during pregnancy) and reduced physical activity.
Iron deficiency anemia is caused due to unbalanced diet and malnutrition, lack of proper assimilation of the nutrients is a major cause of anemia, heavy menstruation during menarche menorrhagia (excessive bleeding), pregnancy & hemorrhoids (bleeding piles).
SBL's Fe-Min Tablets, developed with validated homeopathic medicines, offer a safe and effective way to treat anemia. Fe-Min improves the absorption process by directly enhancing the nutrient-binding capacity of the cells. thereby relieving the signs and symptoms of anemia.
RECOMMENDED FOR
Girls during menarche
Pregnant women
Anemic persons both males and females
CONTRA-INDICATON
No known contra-indication
Dosage
| | |
| --- | --- |
| Tablets Adults | 2 tablets, 3-4 times a day, in acute conditions 2 tablets, 2-3 hourly |
| Children | 1 tablet, 3-4 times a day |
Or, as prescribed by the physician.
Presentation
Tablets: Bottle of 25gm
COMPOSITIOlN
| | |
| --- | --- |
| Ferrum phosphoricum 3x | Kali phosphoricum 3x |
| Calcarea phosphorica 3x | Calcarea fluorica 3x |