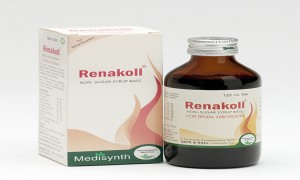 Price: Rs. 100.00 (125 ml syrup)
Medisynth Renakoll is helpful in cases of pain, dysuria, calculi and recurrent urinary tract infection. It will also help to prevent tendency for calculi formation by improving renal functions.
Urinary tract infection (UTI) is the term used to describe the growth of bacteria in the urinary tract with infection occurring anywhere from the urethral meatus to the renal cortex. Urinary tract infection (UTI) is a common clinical problem that affects a large number of women populations annually during their lifetime. There is an increased in the rate of UTI during puberty, related in part to the onset of sexual activity and pregnancy. Painful urination is usually caused by a (UTI) urinary tract infection, associated symptoms mainly include frequent or urgent urination.
CONTRA-INDICATION
No known contra-indication
Side effects:
No Known of side effects
Presentation:
125 ml, 450 ml
Composition:
| | |
| --- | --- |
| Berberis Vulgaris Q | Sarsaparilla Q |
| Sabal Serrulata Q | Tribulus Terrestris Q |
| Chimaphilla Umbellata Q | Helonias Dioica Q |
| Juniperus Communis Q | Vesicaria Q |