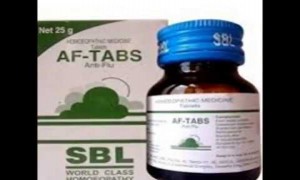 Price: Rs. 140.00 (25 gm)
Flu or influenza is a viral infection of the respiratory system nose, throat and lungs.
Fever over loaf (38°C), body ache, especially back, arms and legs, feeling of chilliness, headache, cough. fatigue and weakness.
Influenza viruses are constantly changing with new strains appearing regularly. When the virus colonizes in the body, the body produces antibodies to fight the virus. However the antibodies do not protect you from the new strain virus.
SBL's AF-TABS is an IN house clinically proven formulation with well balanced composition of homeopathic medicines, which assist the body in producing antibodies to fight the colonization of the viruses and bring a quick and significant reduction in signs and symptoms of flu impressive of the different strain of the virus.
AF-TABS should be taken at very first signs of the flu. AF-TABS is indicated for the following symptoms:
Sneezing, watery nasal discharge
Fever, Bodyache,Headche
Cough
Fever, Flushing of face with redness of eyes
CONTRA-INDICATON
No known contra-indication
Dosage
| | |
| --- | --- |
| Tablets Adults | 2 tablets, 3-4 times a day, in acute conditions 2 tablets, 2-3 hourly |
| Children | 1 tablet, 3-4 times a day |
Or, as prescribed by the physician.
Presentation
Tablets: Bottle of 25gm
COMPOSITIOlN
| | |
| --- | --- |
| Bellis Perennis 3x | Bryonia Alba 3x |
| Gelsemium Sempervirens 3x | Eupatorium Perfoliatum 3X |