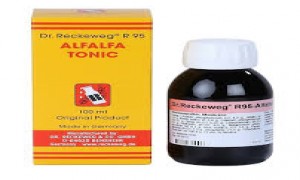 Price: Rs. 280.00 (100 ml Syrup)
Composition:
Feeling of exhaustion and anxiety due to overwork and worry rapidly subside and general physical improvement in the patient very shortly appears.
Acid Phosphoricum: Physical and mental exhaustion, impotence, pollutions, lack of concentration, apathy, sleepiness during day time.
Avena sativa: Neurasthenia, mental overstrain, sexual debility, rich in vitamins and minerals.
Calcarea phosphorica: Deficiency in calcium production and perturbation of the growth of the bones.
China officinalis : General tonic after loss of humours and exhaustion, illnesses, impotence thereafter.
Cinnamomum: Convalescence, presents all kinds of bleedings.
Ginseng: Its excellent roborant result is due to vitamin D1, and B2 (Thyamine and Riboflavine) as well as to its mineral ingredients with high content of sulphur.
Hydrastis Canadensis: General tonic in illness-related weight reduction, exhaustion, hyposthenia.
Magnesium phosphate: Stabilization of the central nervous system, pains and cramps in nerves and muscles, neuralgia.
Medicago sativa (Alfalfa): Contains amino acids, which are indispensable for the bodily structure.
Nux Vomica: Stabilization of cramps in nerves.
DOSAGE:
Adults one tablespoon, children one teaspoonful 3 times daily before meals.
Size:
100ml Rs. 280.00, 500ml Rs. 1055.00, 250ml Rs. 570.00