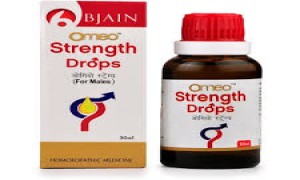 Price: Rs. 329.00 (30 ml Drop)
Sexual weakness or Erectile Dysfunction, in which a man fails to attain an erect penis that is rigid enough for sexual penetration or sexual satisfaction. Sexual problems in Men Causes, symptoms and homeopathic treatment with medicine list is extensively covered in our article here.
Bjain Omeo Strength drops uses for Premature ejaculation (reaching orgasm too quickly), Delayed or inhibited ejaculation (reaching orgasm too slowly or not at all), Low libido (reduced interest in sex).
Impotence may occur:
Mental stress and depression
Smoking
Alcohol/ drug abuse
Heart disease
Diabetes
High blood pressure
CONTRA-INDICATION
No known contra-indication
Side Effects
No known Side Effects
Presentation
25 gram
Dosage
Take 11-16 drops should be diluted in 1/4th cup water 3 times a day or as prescribed by the physician.
Composition:
Damiana Ø (3ml v/v)
Ginseng Ø (3mlv/v)
Agnus Castus 2X (3ml v/v)
Nuphar Lutea 2X (3ml v/v)
Muira Puama Ø (3ml v/v)